FREE Online Ordering for your business
plus a FREE holiday value $900 for YOU Join NOW!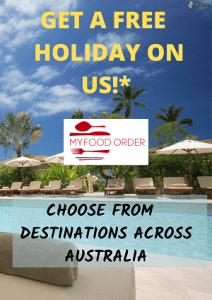 If anyone deserved a holiday more now its the Hospitality Industry!
Join Our Free Ordering Platform today and receive a FREE Holiday for you or your clients.
---
Inclusions
$900 holiday across Australia (3 nights/4 days)
Platform Set Up (Menu loaded)
Set-up Fee of $375 waived during lockdown
FREE online ordering platform – more info click here
Win Back Voucher (get your UberEats customers to order directly and save)
My Food Order Market Place listing
Driver delivery service – Save 75% on your Third-party Delivery commissions ($15 monthly fee applies)
Coupon Offers listing – see here
---
HERE'S HOW THE HOLIDAY VOUCHER WORKS:
Receive a "Holiday Voucher" for joining My Food Order
To register your "Holiday Voucher", simply visit the webpage shown on the Voucher & submit your details & "unique code".
CONGRATULATIONS –
YOU'VE SCORED YOURSELF A "HOLIDAY VOUCHER!"
FOR TWO AT YOUR CHOICE OF IDYLLIC DESTINATIONS!"
*Travel not included & Conditions apply – terms & conditions
Start Saving Today – Join NOW!